We are prototype and contracting suppliers to tier 1 automotive manufacturers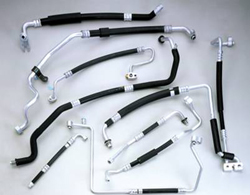 It's common for a vehicle to have a burst pipe, a crack or a corroded pipe, or one that just suffers a failure due to age.
This leads to the refrigerant, which is under high pressure, escaping. The only option for most people is to replace the faulty pipe with one from the Main Dealer, sometimes costing hundreds of pounds.
We can repair ANY fault on an A/C pipe, no exceptions! We are able to use an original pipe to pattern a new replacement if required.
We offer a nationwide service by post, and have even been known to send the repairs anywhere around the world!!
Our Service Includes: 
CNC Scanning Of Components to Produce CAD Drawings.

CNC Bending of Pipework from 08mm to 19mm. Accurate to within +/- 1mm throughout the length, however complex.

CNC Engineering of Components.

Laser Welding and TIG Welding as required.
We Are Proud to Be Automotive Tier 1 Suppliers to LEVC (London Taxi Co.), Lotus, Mclaren, Toyota, Emerald Automotive, Tata, Geeley, David Brown Automotive, Jaguar Land Rover, Charge Automotive and Keating Supercars.
Our Pipe Repairs are normally completed within a 3 Working Day Turnaround. Pattern Pipes will take approx. 7-10 Working Days.
Send your pipe to us, with the following details;
Your Contact Details including Phone Number and Return Address,
As much of a description of the fault as possible including marking the fault area with ideally a Permanent Marker and detailing Orientation for any broken sections,
to:
1 Northfield Avenue, Kettering, NN16 8TB
We will contact you upon our Technicians inspecting the pipe on the bench, and call you with the repair cost. If this is authorised, then payment and choice of return postage will be taken by Credit/Debit Card.
We at Bee Cool repair all types of A/C pipes, no exceptions!